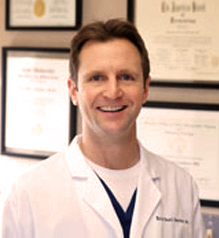 Erin S. Gardner MD, FAAD, FACMS
Dermatology Specialists of St. Louis is a private specialty practice dedicated to excellence in skin health. Physician and director Dr. Erin S. Gardner and his staff strive to provide the highest quality decision-making and treatment to achieve exceptional outcomes, and a great patient experience.
The practice delivers expert diagnostic medical and surgical care to patients seeking attention for sun-damaged skin and skin cancers. Providing sophisticated treatment options for both pre-cancerous lesions and skin cancers, the practice offers interventions and therapies that range from the minimally-invasive to surgical in nature. Precision removal of skin cancer lesions is a practice specialty. Dr. Gardner is also one of the leading providers of light-based treatment for pre-cancerous lesions in St. Louis.
Dr. Gardner is a board-certified dermatologist, fellowship-trained in dermatologic and Mohs micrographic surgery. He interned at Barnes-Jewish Hospital for Washington University and completed his dermatology residency at Duke University, where he was asked to be the chief resident and lead the educational opportunities for the other residents. Dr. Gardner completed fellowship training at Methodist Hospital in Houston, where he studied advanced skin lesion treatments and Mohs micrographic surgery. He is a Fellow of the American College of Mohs Surgery, the premier academy for skin cancer surgeons in the United States. He is also a Fellow of the American Academy of Dermatology, where he caucuses with other state society leaders in advocating for skin-health education and wellness issues.
An active member of professional organizations in his field, Dr. Gardner serves on the board of directors and is president-elect of the Missouri Dermatological Society. He represents Missouri's dermatology community as liaison to the Missouri State Medical Association, where he advocates for patient safety in skin care services. He annually volunteers for skin cancer screenings of state legislators at the Missouri State Capitol. Dr. Gardner also serves as a reviewer for Dermatologic Surgery, the preeminent journal for skin cancer treatments and surgical therapies for the skin.
When not attending to professional duties, Dr. Gardner serves as an Elder at Central Presbyterian Church, where he leads in the Family Ministries Division. He is an avid reader and runner. He also enjoys mountain climbing with his wife, friends, and three daughters.